Dr. Brent R. Humphrey, known to his patients as Dr. Brent, graduated with honors from the University of South Carolina with a Bachelor of Science degree in Biology and was inducted into the prestigious Phi Beta Kappa Honor Society. He earned his doctorate in Dental Medicine at the Medical University of South Carolina (MUSC) in Charleston. He also received his pediatric dental specialty training from the MUSC Children's Hospital.
Dr. Brent is a Diplomate of the American Board of Pediatric Dentistry has been a member of the American Academy of Pediatric Dentistry, Southeast Society of Pediatric Dentistry, South Carolina Academy of Pediatric Dentistry, American Dental Association, and South Carolina Dental Association.
Dr. Brent has been in practice in Goose Creek for more than 25 years. He regularly attends ongoing continuing education in the pediatric dental field to ensure that his patients have access to the latest diagnostic, preventive and treatment methods.
Dr. Brent grew up in upstate New York. He knew he wanted to be a dentist since the 7th grade. While he was in dental school, he realized how much he enjoyed working with kids.
In his free time, Dr. Brent enjoys travel and outdoor activities including snow skiing and scuba diving, as well as spending time with family and friends. In earlier years, he enjoyed surfing, which was the inspiration for his logo. He is a regular volunteer diver at the South Carolina Aquarium.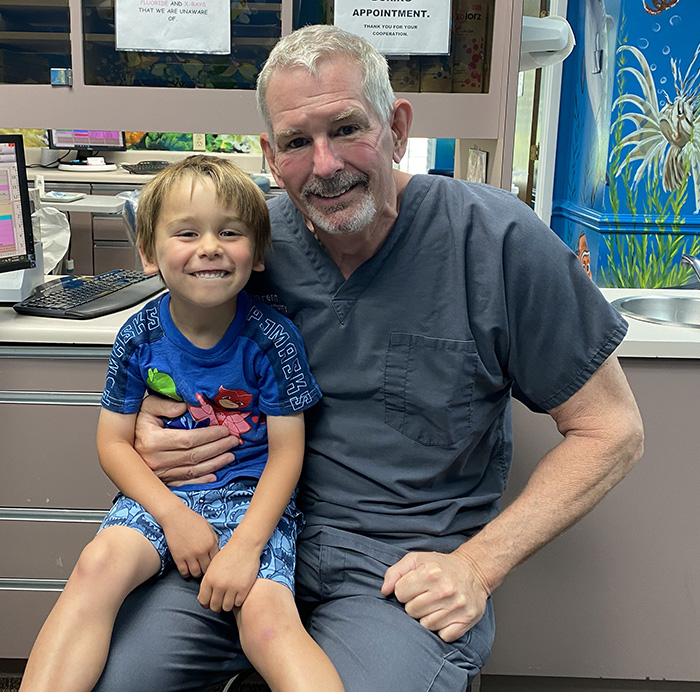 Dr. Brent with his grandson Sammy
He has been married for over 35 years to his wife Elaine and has two daughters, Savannah and Mariah, a grandson, Samuel and cat named Phil. Dr. Brent and his family reside in Goose Creek and are active members of Immaculate Conception Church.